I don't know about you but I'm ready for 2021. With the new year comes a new paper planner. Maybe I'm a unicorn of a millennial because I still use a paper planner but I don't care. Each year I search the stores and the internet for the PERFECT PAPER PLANNER. I'm talking it gets real serious around the time I need to by a new planner. Each year I get closer and closer to the perfect planner. This year I nailed it! I found the world's most perfect planner.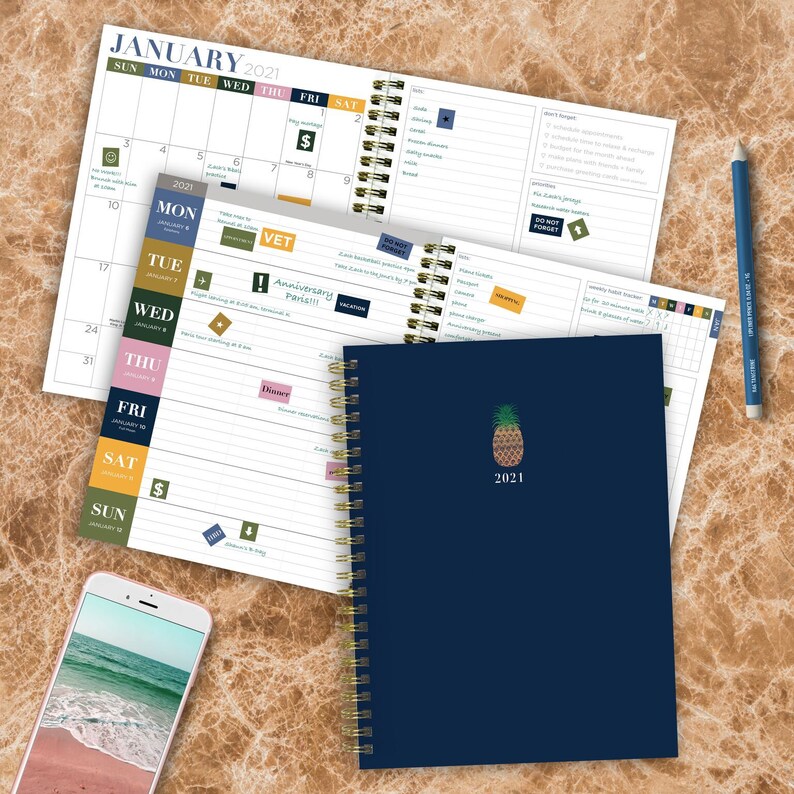 Why I love this planner?
It has a weekly and monthly calendars.
The weekly calendar has enough space to put my chores, errands, appointments, and more.
There are stickers! Yep stickers got to be #3 because it's the extra touch that counts.
The weekly calendar page has an opposing page for lists (like to-do lists!), notes, PRIORITIES (like the stuff that has to happen vs. the pie in the sky stuff), notes for the following week, and a weekly habit tracker.
The page opposing the monthly calendar has a space for lists, notes, events-birthdays, priorities, and a checklist of things not to forget. These reminders are so basic but we often forget to chill and buy some birthday cards for the upcoming month.

schedule appointments
schedule time to relax & recharge
budget for the month ahead
make plans with friends & family
purchase greeting cards (and stamps)

This calendar is for the full 2021. I'm not a fan of using the academic calendars and having to switch mid summer. Too much work when it's awesome outside.
You can buy this calendar from a small business!
Do you really need more reasons to love this planner?
What do you look for in a planner? Or are you 100% digital?